Doors Inter-Room Fantasy Object - Apartment in Kharkiv
I am glad to present to you the next photo-report from the object where our doors were installed inter-room Fantasy. Our doors continue to please customers with impeccable quality, due to compliance with all requirements of the production of inter-room doors, high standards of their manufacture. Of course, I hurry to post a photo of the doors in the interior and in this case it is an apartment in Kharkiv, and the door is clear. It is much better, of course, to see at least once, than a hundred times to hear about all sorts of advantages of doors, especially from the mouth of the interested to tout themselves manufacturer. But we are in a hurry to provide the potential customer with all possible identities, that our doors, these doors are really noteworthy, and the trademark DoorWooD™, really deserves the trust of its customers. Radius inter-room doors. White glossy doors made of maple Video
Photo of the doors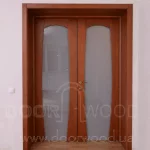 So a photo of the doors in the interior. Model door Fantasy. The doors are made of ash, a solid array. Paint coating - toning, coating with Italian varnishes, open time. There's a natural parquet on the floor. There is a decorative stone on the walls. This created some difficulty in working on this order. Since the stone was laid in advance, when the doors were mouting, we calculated the size of the door canvases in such a way that when installing the box in the aperture, the handout became clearly in front with the decorative stone. And as you can see, we did it masterfully! Why is it better to order doors than to buy them at the supermarket?
How to order from us doors from ash?
Our customer gets the best combination of price and quality! And to order doors from us - very easy. You can use any of the messengers you love. Our managers are always in touch to advise you and calculate the order. Just click on the link and write.
Social networks and messengers: