Hidden doors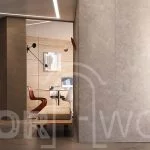 The doors of the hidden mounting are very stylish and modern! We can say that hidden doors are a trend of modern design. And it's not that secret doors are needed for some secrets. And in that it is hidden doors, doors of hidden installation have the widest technical capabilities. And technical capabilities in turn expands the palette of possibilities for the design of the style of the premises.
Technical capabilities that have doors of hidden mounting.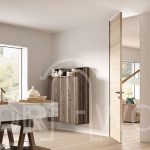 The first thing I will note is that the doors of the hidden installation can be opened absolutely in any direction! This is something you can't achieve if you have a regular door and a wooden box. The wooden box itself dictates the direction of opening the door. And you can't see the box door from the face. But from the hut box is visible quite clearly. And to this box, usually attached to the face. But it's not like we have hidden doors. The door can stand flush, that is, level with the wall and at the same time open inside the room.
Hidden door opening schemes
Diversity of design
Do hidden doors have to be flat and smooth? Absolutely not. The feature of the doors of the hidden installation lies primarily in the aluminose box. It is it, as if buried in the wall. Hidden loops are installed in the aluminum box. And as far as the door is concerned, we have complete creative freedom. On hidden loops you can hang even the usual classic fillet door. This option is appropriate when hidden doors are part of a single cascade with wall panels. In that case, naturally, if the wall panels are also in the classic style. But still, most often make venerated door canvases, or under painting. And also widely used glass.
How to install doors of hidden installation?
Order yourself such designer doors
If you want to order such unique designer doors, then with door factory DoorWooD it is very easy to do! Our customer gets the best combination of price and quality! And to order doors from us - very easy. You can use any of the messengers you love. Our managers are always in touch to advise you and calculate the order. Just click on the link and write.
Why is it better to order doors than to buy them at the supermarket?
Social networks and messengers: