Doors in Odessa Video
Doors of ash and maple. Glossy doors and matte. Radius and ordinary inter-rooms.
Doors in Odessa Video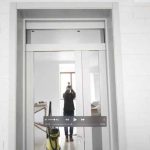 In this video I will walk through all three floors of this private house in Odessa. Especially for you, so that you can visually appreciate our work, how we do and set the doors in Odessa and in general on The Ukrania we shot this video.
[wpvideo AhH6fCZj autoplay="true"]
Glossy doors
On the third attic floor and also on the second floor were installed doors of maple with a smooth glossy paint. The central room of the second and third floors is round, and therefore the doors to the rooms – radius. Our company has a lot of experience in making radius doors from wood of different breeds such as ash oak or maple. In our work, we are constantly faced with non-standard tasks and not standard doorways. So on the ground floor there are doors in the opening three and a half meters high, one and a half wide, and a depth of 540 mm.  There is also an interesting episode in this video, in which you can see how the mechanism of the doorknob Linea Cali works. This episode will be useful to those who will determine the choice of door handles, which is also important.  In the doors of the first floor there is a glass triplex – mirror graphite.  Construction of the house, repair in it, is not easy, especially when the house has three floors and plus a ground floor. We are bringing and installing the doors in stages for about six months as the repair works progress. We still have to put the doors to the basement.  Subscribe to our YouTube channel and stay tuned.
Write in the comments on what topic you would like to see videos in the future. We will definitely shoot for you episodes in which we will tell in detail about all stages of production and installation of doors.
Order door-to-door DoorWooD™ or get advice by phone