Technology for making inter-room doors from an array
Telescopic design of the door box. Adjustable cash and co-op.
Technology for making inter-room doors.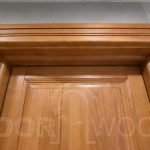 In the manufacture of inter-room doors, we use modern technology and have some "highlights" - specific features that distinguish our doors from the general mass of manufacturers.
The design of the inter-room doors
Namely, it is the design of the door box and canvas. The box has a rounding of the end - for beauty, a groove for inserting a seal - for soft and silent closing of doors. If necessary, a box extender is made, otherwise the finish is made on any thickness of the wall. Adjustable slate inserted into the groove on the box - allows you to compensate for the unevenness of the walls, absolutely eliminates the cracks on the side of the box and provides the perfect fit to the wallpaper. The door top is not rectangular as usual, but with the influx - it closes the gap between the box and the canvas of the door, allows you to install adjustable loops OTLAV, which are regulated in three planes. Next, pay your attention to a few photos that illustrate how our doors are arranged inside, so to speak the doors in the cut.
How do I order DoorWooD's door-to-go?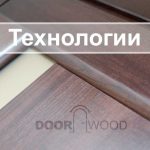 Our customer gets the best combination of price and quality! And to order doors from us - very easy. You can use any of the messengers you love. Our managers are always in touch to advise you and calculate the order. Just click on the link and write.
Social networks and messengers: